Yendem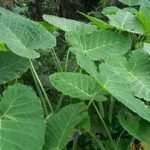 Common Name
English :Indo-Malayan Taro/Common aroid
Hindi :Mankhanda
Manipuri :Yendem
Scientific Name
Group :Angiosperm (Monocotyledon)
Family :Araceae
Genus :Alocasia
Species :indica  (Roxb.) Schott.
Habit :Robust rhizomatous herb
Parts Used :Rhizome, Leaf and Petiole
Mode of Preparation :Petiole cooked for consumption. Leaf lamina roasted for local application on boils. Rhizome is boiled or steamed for consumption. Whole plant is used as common vegetable.
Mode of use :Decoction, Fresh and Local Application
Ingredients :Rhizome is rich in starch. oxalic acid, calcium oxalate flavonoids, cyanogenic glycosides, alocasin, cholesterol, b-sitosterol, amino acids, citric acid, malic acid, ascorbic acid, glucose, fructose and sucrose, etc. are reported in the plant.
Ailment Treated:Cooked petiole is good as blood purifier. Roasted leaf is good for local application on boils. Leaves styptic and astringent.
Source:Generally cultivated in home garden & found sold in the markets.