Yachubi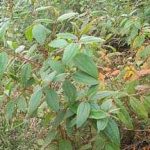 Common Name
English :
Hindi :
Manipuri :Yachubi
Scientific Name
Group :Angiosperm (Dicotyledon)
Family :Melastomataceae
Genus :Melastoma
Species :malabathricum  Linn.
Habit :Hispid undershrub
Parts Used :Root, Bark & Leaf
Mode of Preparation :Bark and root crushed with water for extract.
Mode of use :Fresh
Ingredients :Fruits yield a black or purple dye. A pink dye is obtained from leaves and roots.
Ailment Treated:Bark and leaves are used for skin irritation. Plant is used in diarrhoea, dysentery and leucorrhoea. Bark and root extract is antiseptic and used as gargle.
Source:Commonly grown at foothills and along the roadsides as escape.