Khamen barmashika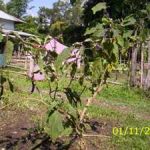 Common Name
English :
Hindi :
Manipuri :Khamen barmashika
Scientific Name
Group :Angiosperm (Dicotyledon)
Family :Solanaceae
Genus :Solanum
Species :melongena  Linn.
Habit :Bushy shrub
Parts Used :Leaf
Mode of Preparation :Young shoot crushed for decoction. Fresh leaves crushed with water for juice.
Mode of use :Decoction and Fresh
Ingredients :Contains steridal alkaloids, presence of solasodine in the green fruit has been reported.
Ailment Treated:Decoction paste of young shoot is eaten for blood purification. Juice of leaves are given in skin diseases and mixed with honey is used in diarrhoea and urinary disorder.
Source:Cultivated.