Heitup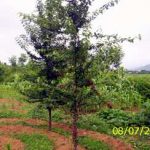 Common Name
English :
Hindi :
Manipuri :Heitup
Scientific Name
Group :Angiosperm (Dicotyledon)
Family :Tiliaceae
Genus :Microcos
Species :paniculata  Linn.
Habit :Small sized tree
Parts Used :Leaf and Fruit
Mode of Preparation :Fruits are edible and pulp extract can be prepared.
Mode of use :Fresh
Ingredients :Plant yields a fiber.
Ailment Treated:Plant is used in indigestion, typhoid, dysentery and syphilitic ulceration of the mouth and was used in small pox, eczema and itches. Leaves are used for wrapping Cigars. Green lopping used as manure.
Source:Wild/cultivated in hills.