Heiribob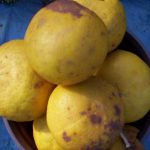 Common Name
English :
Hindi :
Manipuri :Heiribob
Scientific Name
Group :Angiosperm (Dicotyledon)
Family :Rutaceae
Genus :Citrus
Species :latipes  (Swingle) Tanaka
Habit :Small tree
Parts Used :Fruit
Mode of Preparation :Fruit juice mixed with common salt is used for consumption. Peel off fruit cover is used as spices.
Mode of use :Fresh
Ingredients :Fruit contains Vitamin C and b-cytosterol.
Ailment Treated:Fruit juice prescribed in colic and used for cold and cough. Fruit juice after mixing with some other plants are used for treatment of culculi formation.
Source:Cultivated in both hills and valley. Extensively sold in the market.