Hanggam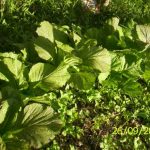 Common Name
English :Mustard
Hindi :Saron
Manipuri :Hanggam
Scientific Name
Group :Angiosperm (Dicotyledon)
Family :Brassicaceae
Genus :Brassica
Species :campestris  Linn.
Habit :Delicate herb
Parts Used :Seed and Leaf
Mode of Preparation :Leaves crushed for decoction . Fresh leaves crushed with water for paste. Seed crushed for oil extraction .
Mode of use :Decoction, fresh and local application
Ingredients :Seeds yields a fatty oil.
Ailment Treated:Decoction of the plant is used as antidote to food poisoning. The crushed leaf is applied on the forehead to cure headache. The oil from the seeds is applied with gargle in paralysis, muscular pains, nerve weakness and stomach for digestion.
Source:Cultivated extensively.