Coffee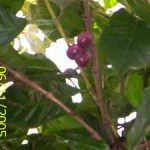 Common Name
English :Coffee
Hindi :Caphi
Manipuri :Coffee
Scientific Name
Group :Angiosperm (Dicotyledon)
Family :Rubiaceae
Genus :Coffea
Species :arabica  Linn.
Habit :Bushy shrub
Parts Used :Seed
Mode of Preparation :Seeds dried & crushed for powder. Seed is crushed for decoction. Unripe seed is soaked in water for infusion.
Mode of use :Decoction
Ingredients :Seeds contain caffiene more than tea, thus it has both good and evil effects on our body and mind.
Ailment Treated:Dried riped seed decoction used as a stimulant nervine and diuretic. Strong coffee is a remedy for poisoning by opium, alcohol and other narcotics. Seeds decoction stimulates the flow of digestive juices and intestinal peristalsis. Unripe seed infusion is good for migraine, fever and gout.
Source:Cultivated.